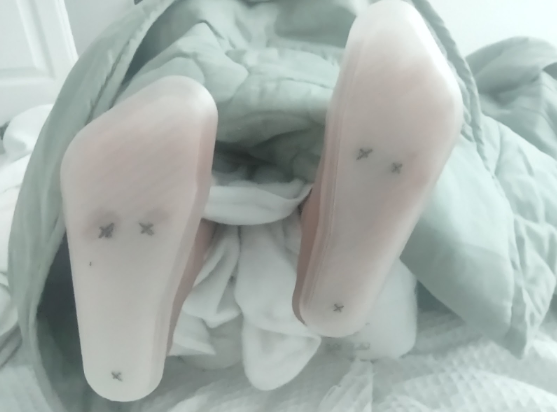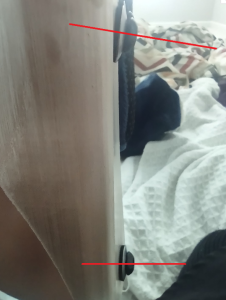 The problem: Consider a standing doll. It has bolts going downwards to support her weight. However, you still have to be careful to not mess up her toes A) when you're putting on her shoes and B) she slides forward in her shoes, either because the front got bumped, or she's wearing high-heels. Also, when you're adjusting her foot to point it downwards or sideways, you do so by pushing downwards on her toes and the top of her foot. It takes quite a bit of force, and you risk damaging the top of her foot.
The solution: A "rigid inner shoe" that bolts onto a doll's foot, and wraps around and protects the toes. It can be used as a shoe by itself, or it can slide into an actual shoe. If you press down on the top of (the part of the shoe that covers) her toes, the force is transferred through the shoe, into the bolts, meaning there is no risk of damaging the TPE on top of her foot. Same for lateral adjustments.
Warning, and note from revy:
Installing the Waifu shoes requires some confidence with hand tools AND DRILLING. It cannot be considered a "customer-friendly product". As such, this is a KIT THAT REQUIRES ASSEMBLY AND DRILLING. There's no guarantee you install it correctly. And, although I've done my best to give clear instructions and backup options, there's probably also a pretty good chance you'll mess it up badly enough that you have to buy another kit.
TFM considers this product "not-ready as-is", which I would definitely agree with.
I came up with the waifu shoes primarily to satisfy something that bothered me about my doll, and am only trying to sell it since I put so much work into it and could save someone else the trouble. Unlike the SRP which I developed to improve the doll experience for other people. Basically, it's something I built for myself, for me (a robotics engineer) to install, and I'm just dumping the build instructions. Also why I'm making it open-source.
Instructions and Parts List (includes link to STL and everything else if you think the kit is overpriced): https://docs.google.com/document/d/1ab2g7XZPkPfcvAz_K4MMruXSHxd9QbZEKAuqipHDLUc/edit#
If you do choose to make your own waifu shoes instead of purchasing the kit, please send me a thank-you/feedback/whatever to revy.at.home@gmail.com so I can keep track of the interest in this product.
Purchase Waifu Shoes Kit ($129)
---
Please allow for 2 weeks assembly and shipping. I'm ONE person. Also note that this is longer than the main SRP since it's made-to-order.
---
Contact Email:
revy.at.home@proton.me